Case Study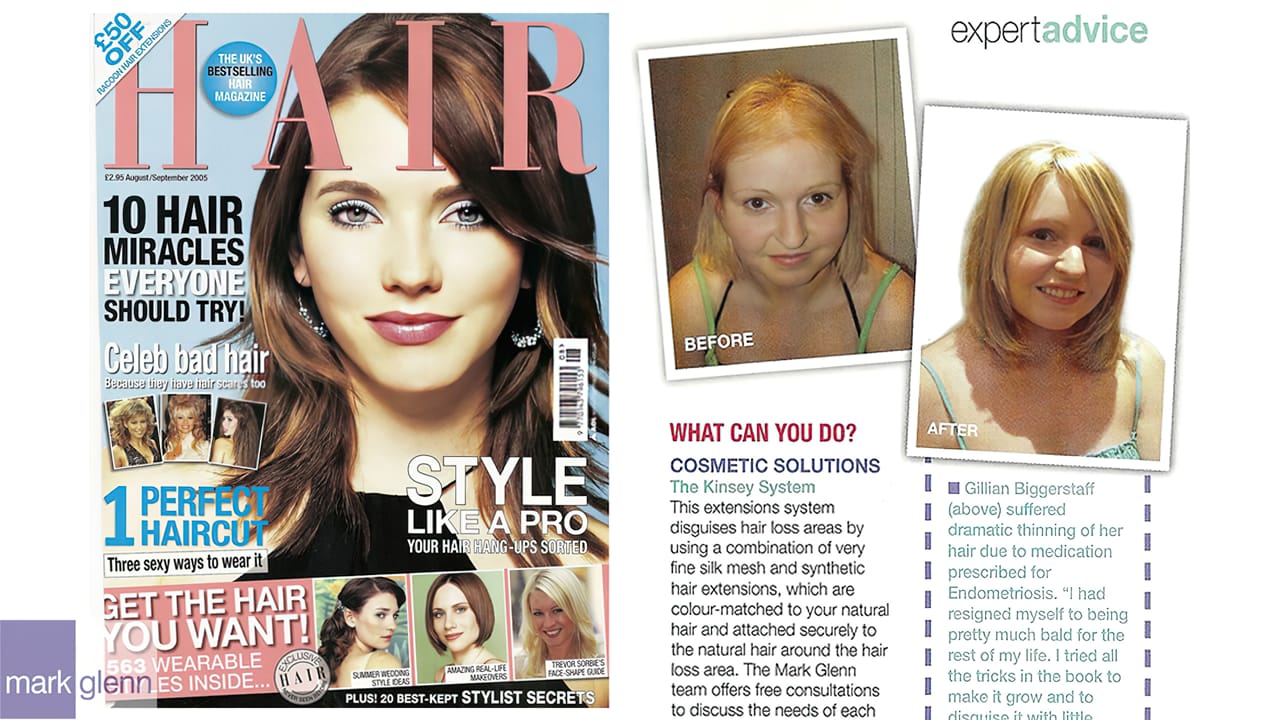 An issue of Hair Magazine asked, 'Where do you turn if the nightmare of hair loss happens to you?' And answered by recommending our Kinsey System as a cosmetic solution.
In addition, it featured a separate Kinsey System case study where a client had suffered dramatic thinning of her hair due to medication.
Gillian Biggerstaff says in the magazine, "I can't tell you how much this has positively affected my life.
"I love my new hair, I feel like I fit in with everyone else and I no longer look longingly at pictures of celebrities with great hair - I've got my own now!"
The double-page article also talks about the science, types and causes of female hair loss and says that, unlike for men, women's hair loss is still a "hush-hush affair".
We've re-printed a portion of the article featuring Mark Glenn below; in addition, if you scroll down, you can see two videos of Gillian from GMTV as well as more before and after pictures...
Excerpt from Hair Magazine feature - 'Coping with hair loss'

WHAT CAN YOU DO?

COSMETIC SOLUTIONS

This system disguises hair loss areas by using a combination of very fine silk mesh and synthetic hair extensions, which are colour-matched to your natural hair and attached securely to the natural hair around the hair loss area.

The Mark Glenn team offers free consultations to discuss the needs of each client. Visit www.markglenn.com or call 0207 495 6969.

Kinsey System - Before and After

Gillian Biggerstaff (right) suffered dramatic thinning of her hair due to medication prescribed for Endometriosis.

"I had resigned myself to being pretty much bald for the rest of my life.

"I tried all the tricks in the book to make it grow and to disguise it with little success.

"I tried to mention it to friends but I felt like I was just being vain and making a fuss."

Gillian heard about Mark Glenn Hair Enhancement who use the Kinsey System to cover even the most serious cases of hair loss and decided to pay a visit.

I can't tell you how much this has positively affected my life

"I can't tell you how much this has positively affected my life," she says.

"I love my new hair. I feel like I fit in with everyone else and I no longer look longingly at pictures of celebrities with great hair - I've got my own now!"

Copyright © Hair Magazine. Article by Charley Williams.

Hair Magazine - 'Coping with female hair loss' - featuring Mark Glenn (1.73 mb)
w.4200