Case Study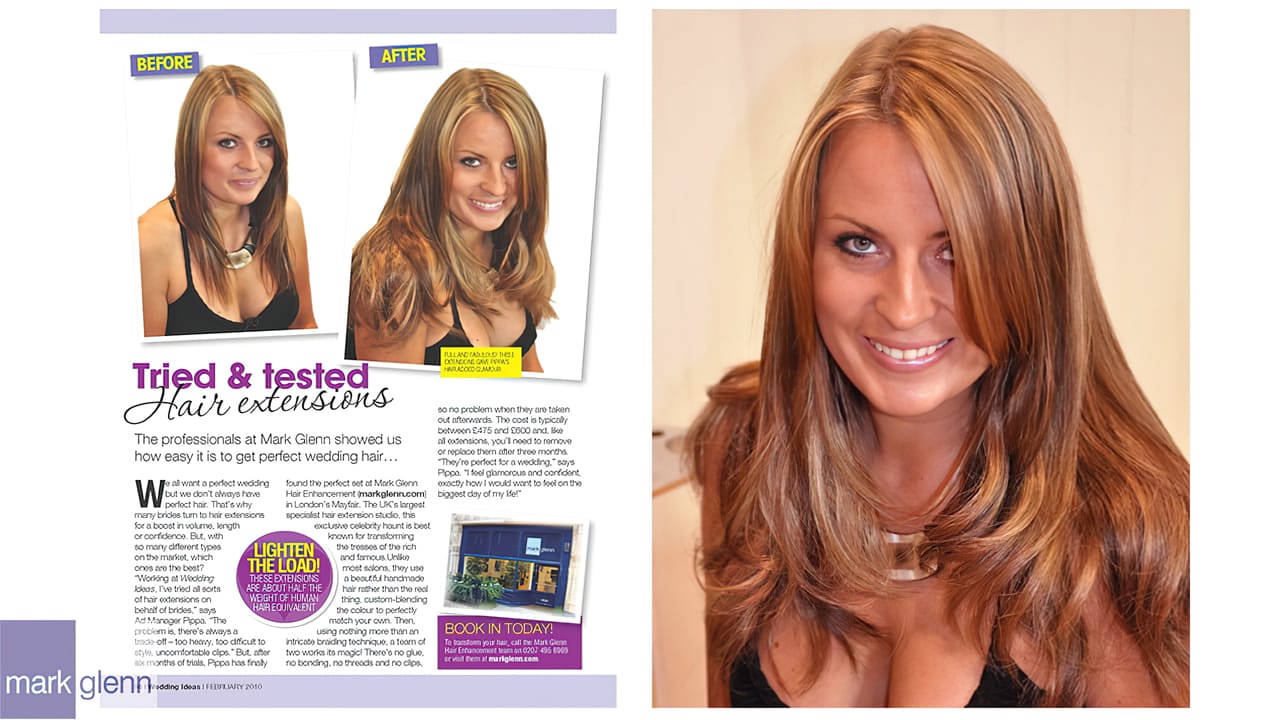 With so many different types of hair extensions on the market, which ones are the best?
After trialling a range of different extensions, Wedding Ideas Magazine reckons Mark Glenn comes out on top.
A feature told how the magazine's Pippa Ward trialled 'all sorts of hair extensions on behalf of brides'.
"The problem is," says Pippa, "there's always a trade-off - too heavy, too difficult to style, uncomfortable clips."
The article says that after six months of trials she's "finally found the perfect set at Mark Glenn Hair Enhancement."
'Exclusive celebrity haunt'
The "Tried and Tested" feature in the UK's biggest selling wedding magazine describes us as "the exclusive celebrity haunt best known for transforming the tresses of the rich and famous", and recommends brides-to-be head to our London hair extensions studio for a boost in volume, length or confidence.
They say that "unlike most salons, they use a beautiful hand-made hair rather than the real thing, custom-blending the colour to perfectly match your own. Then, using nothing more than an intricate braiding technique, a team of two works it's magic!"
Describing our extensions as "full and fabulous" they also say you can "lighten the load" as our fibre hair is about half the weight of the human equivalent.
Referring to our unique application method, they go on to say that, "There's no glue, no bonding, no threads and no clips, so no problem when they're taken out afterwards."
Pippa says in the article, "They're perfect for a wedding. I feel glamorous and confident, exactly how I would want to feel on the biggest day of my life."
You can see the article in full below as well as more before and after hair extensions pictures...
"Tried & Tested - Hair Extensions"

- Wedding Ideas Magazine

The professionals at Mark Glenn showed us how easy it is to get perfect wedding hair...

We all want a perfect wedding but we don't always have perfect hair. That's why many brides turn to hair extensions for a boost in volume, length or confidence.

But, with so many different types on the market, which ones are the best?

"Working at Wedding Ideas, I've tried all sorts of hair extensions on behalf of brides," says Ad Manager Pippa.

"The problem is, there's always a trade-off - too heavy, too difficult to style, uncomfortable clips."

But, after six months of trials, Pippa has finally found the perfect set at Mark Glenn Hair Enhancement (markglenn.com) in London's Mayfair.

The UK's largest specialist hair extension studio, this exclusive celebrity haunt is best known for transforming the tresses of the rich and famous.

Unlike most salons, they use a beautiful handmade hair rather than the real thing, custom-blending the colour to perfectly match your own.

Then, using nothing more than an intricate braiding technique, a team of two works its magic!

There's no glue, no bonding, no threads and no clips, so no problem when they are taken out afterwards.

The cost is typically between £475 and £600 [at the time of publication] and, like all extensions, you'll need to remove or replace them after three months.

"They're perfect for a wedding," says Pippa. "I feel glamorous and confident, exactly how I would want to feel on the biggest day of my life!"

BOOK IN TODAY!
To transform your hair, call the Mark Glenn Hair Enhancement team on 0207 495 6969 or visit them at markglenn.com

Copyright © Wedding Ideas Magazine

Wedding Ideas Magazine - 'Tried and Tested - Mark Glenn Hair Extensions' (263 kb)
w.10200