Case Study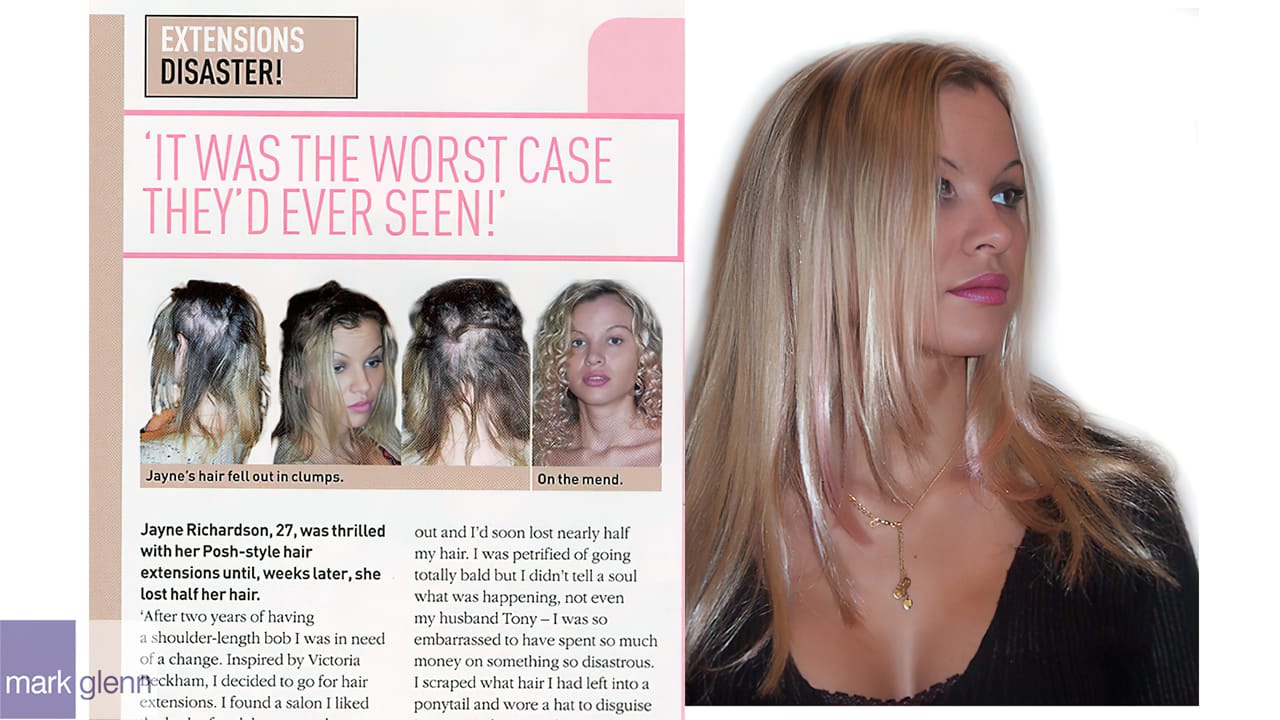 An issue of New Woman magazine told how expert care at Mark Glenn Hair Enhancement helped restore a young model's hair after it was severely damaged by poorly fitted glued-in human hair extensions.
The magazine describes, in Jayne's own words, how she lost over half her hair and turned to Mark Glenn for help. Using our established expertise with female hair loss, we helped to safely cosmetically disguise the damage whilst allowing her own hair to recover.
As independent hair extension specialists, we choose to use only beautiful hand-made fibre hair at our studio, attached and removed without the use of any chemicals, tapes, threads, rings, "bonding" or glue.
Half the weight of human hair with none of the guilt, we believe it's not only safer, but also looks better and is easier to care for than human hair extensions (find out more in our frequently asked questions pages).
We've re-printed the article in full below as well as more before and after pictures...
New Woman - 'Hair Extensions Disaster' (563 kb)
Extensions Disaster!

- New Woman, London

'It was the worst case they'd ever seen!'

Jayne Richardson, 27, was thrilled with her Posh-style hair extensions until, weeks later, she lost half her hair.

'After two years of having a shoulder-length bob I was in need of a change. Inspired by Victoria Beckham, I decided to go for hair extensions.

I found a salon I liked the look of and they quoted me £700 so I started saving up.

It took me months to get the money together but as soon as I did, I booked in for a consultation. The stylist explained that I could have human hair extensions, which would be glued in, or fake ones, which are woven in.

I opted for human hair and a few days later I was back in the salon, having them attached...

After seven hours, I emerged with a head of thick, glossy hair.

The extensions looked fabulous and they gave me so much confidence I even started dressing differently, going for the low-cut tops I'd always avoided in the past. I received so many compliments, it felt like £700 well spent.

'I've spent £4,000 trying to repair the damage!'

'Two months later, my scalp started to itch. Then, one night, I was in the shower when a big clump of my hair fell out. I felt sick. Over the next few days, it continued to come out and I'd soon lost nearly half my hair.

I was petrified of going totally bald but I didn't tell a soul what was happening, not even my husband Tony - I was so embarrassed to have spent so much money on something so disastrous.

I scraped what hair I had left into a ponytail and wore a hat to disguise it. Amazingly, Tony didn't notice - no one did.

I scoured the phonebook for a medical hair specialist and made an appointment at Mark Glenn. When I arrived, the specialists at the salon were horrified - mine was the worst case they'd ever seen.

The extensions had been attached to large sections of my natural hair, instead of tiny sections as they should have been. They had pulled down on my hair and torn it out at the roots.

The only solution was to remove them and weave in some more lightweight fake hair ones instead. So far I've had three sessions to repair my hair - each costing £500. I'll need three more before my hair has fully grown back. In the last two years I've spent over £4,000 on this nightmare.

I still haven't told the first salon what they did to me - I just can't face walking through the door - but I am considering legal action.'

Copyright © New Woman
w.10300