Case Study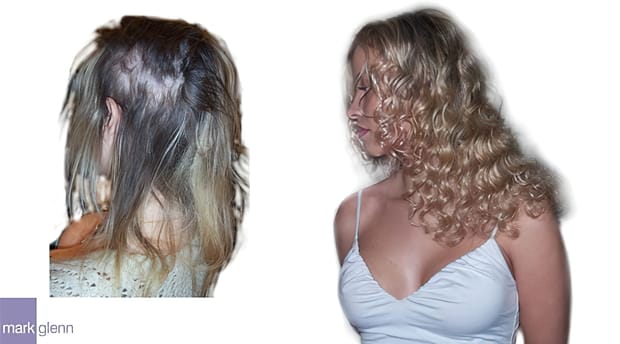 This client's traction alopecia was caused by badly fitted human hair extensions.
Human hair extensions are typically applied with glue, tape or rings and removed with acetone (i.e. nail polish remover) and / or a pliers-like tool, so the potential for damage is great.
In addition, the weight of human hair extensions can "pull" at the scalp, causing the damage you see here.
That's why, with Mark Glenn Hair Extensions, we use a hand-made fibre that's half the weight of human hair and applied and removed without the use of any chemicals.
This client's hair eventually made a full recovery to the point where she no longer needed our help. And in the meantime, our cosmetic techniques truly transformed her look, allowing her to continue her work as a model.
And, just to show the flexibility of styling, we've included pictures showing both a "curly" and "straight" look as well as a "crimped" effect - and remember that these are styles that the client can achieve herself with a few rollers, styling tools and a blow-dryer.
w.700