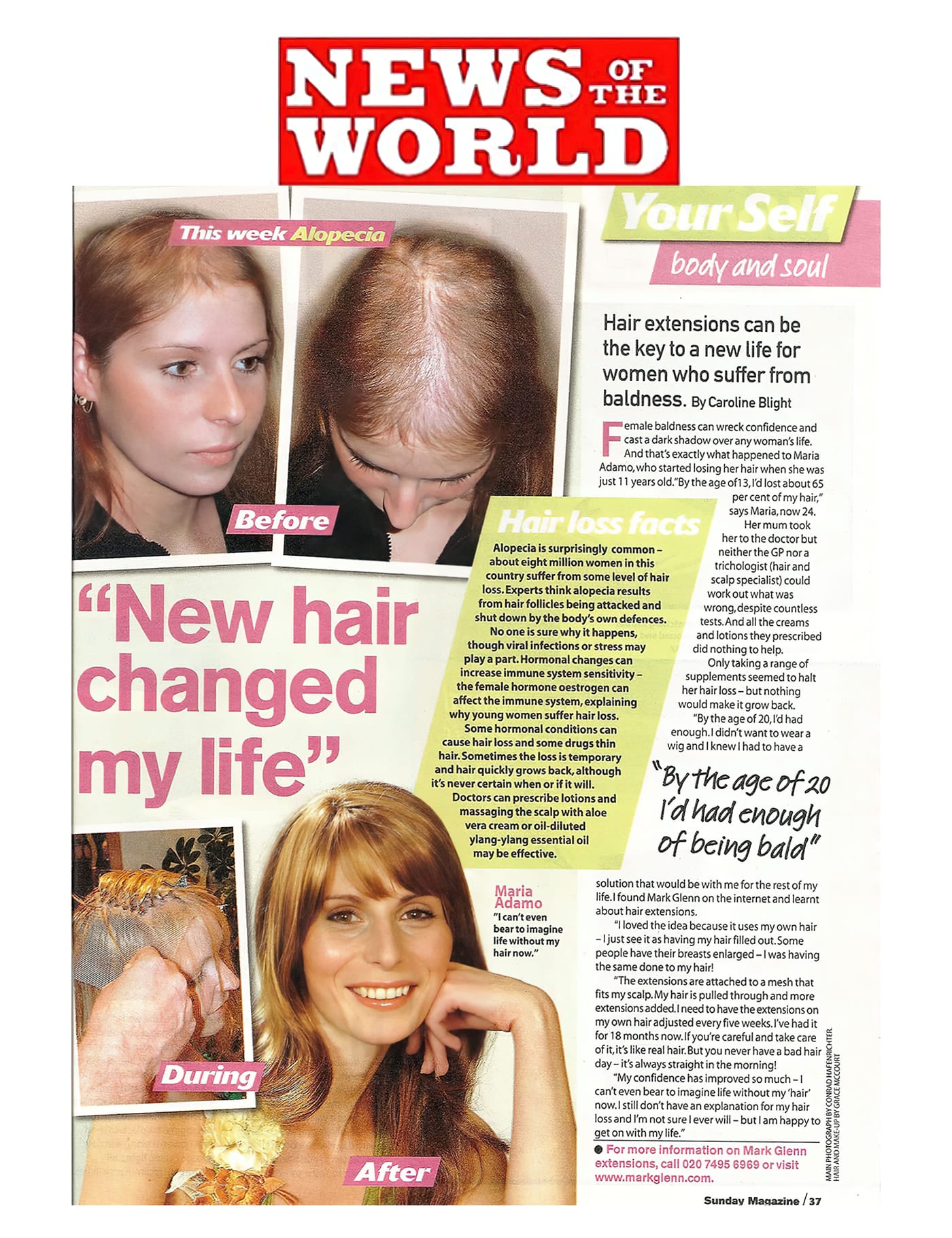 Today's News of the World Sunday Magazine has a full-page feature on Mark Glenn's work to cosmetically restore the hair of androgenetic alopecia sufferer, Maria Adamo.
24-year old Maria - who visits our Mayfair, London hair extension studio from Italy - had tried a range of supplements and treatments in a bid to grow her hair back after losing around 65% of her hair at the age of 13.
She didn't want to wear a wig and, a couple of years ago, came to us for help. We used micro-fine hair extensions and our unique Kinsey System to cosmetically restore her hair and, as you can see from the pictures, she looks amazing.
Maria says in the article, "My confidence has improved so much - I can't even bear to imagine life without my 'hair' now. It's like real hair - but you never have a bad hair day because it's always straight in the morning!"
The text of the article is re-printed below...
"New Hair Changed My Life - Alopecia"

News of the World, Sunday Magazine, London
24th October 2004 : by Caroline Blight

Hair extensions can be the key to a new life for women who suffer from baldness

Female baldness can wreck confidence and cast a dark shadow over any woman's life. And that's exactly what happened to Maria Adamo, who started losing her hair when she was just 11 years old.

"By the age of 13, l'd lost about 65 per cent of my hair," says Maria, now 24.

Her mum took her to the doctor but neither the GP nor a trichologist (hair and scalp specialist) could work out what was wrong, despite countless tests. And all the creams and lotions they prescribed did nothing to help.

Only taking a range of supplements seemed to halt her hair loss - but nothing would make it grow back.

"By the age of 20, I'd had enough. I didn't want to wear a wig and I knew I had to have a solution that would be with me for the rest of my life. I found Mark Glenn on the internet and learnt about hair extensions.

"I loved the idea because it uses my own hair - I just see it as having my hair filled out. Some people have their breasts enlarged - I was having the same done to my hair!

The extensions are attached to a mesh that fits my scalp. My hair is pulled through and more extensions added. I need to have the extensions on my own hair adjusted every five weeks. I've had it for 18 months now. If you're careful and take care of it, it's like real hair. But you never have a bad hair day - it's always straight in the morning!

"My confidence has improved so much - I can't even bear to imagine life without my 'hair' now. I still don't have an explanation for my hair loss and I'm not sure I ever will - but I am happy to get on with my life."

Hair loss facts

Alopecia is surprisingly common - about eight million women in this country suffer from some level of hair loss. Experts think alopecia results from hair follicles being attacked and shut down by the body's own defences.

No one is sure why it happens, though viral infections or stress may play a part. Hormonal changes can increase immune system sensitivity - the female hormone oestrogen can affect the immune system, explaining why young women suffer hair loss.

Some hormonal conditions can cause hair loss and some drugs thin hair. Sometimes the loss is temporary and hair quickly grows back, although it's never certain when or if it will.

Doctors can prescribe lotions and massaging the scalp with aloe vera cream or oil-diluted ylang-ylang essential oil may be effective.

For more information on Mark Glenn extensions, call 0207 495 6969 or visit www.markglenn.com

Copyright © News of the World
Alopecia - 'New Hair at Mark Glenn Changed My Life' - News of the World (1.75 mb)