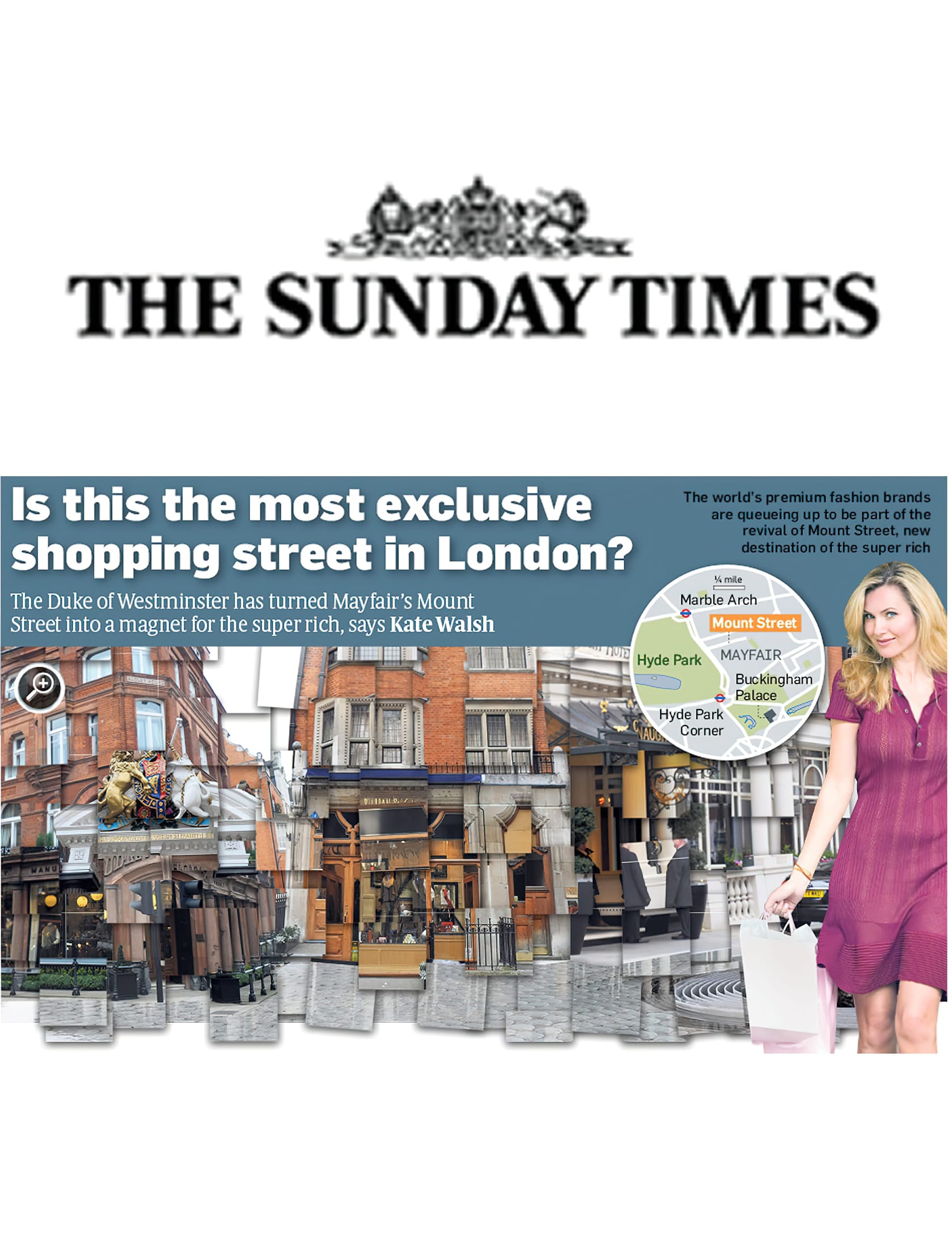 Dubbing it "Oligarch Avenue", today's Sunday Times has a large feature on the continued rise of our Mount Street, Mayfair location, claiming it's set to become one of the world's most exclusive destinations.
Describing it as a "magnet for the super rich", the article in the Business section tells how our neighbours in this small street comprise of some of the world's most exclusive brands including Balenciaga, Christian Louboutin, Marc Jacobs, Lanvin and celebrity haunt, Scotts Restaurant.
Previously in London's Bond Street, Mark Glenn moved to our Mount Street home over two floors in 2005, opposite Marc Jacobs, and clients love the atmosphere of our neighbourhood - but not the credit card bills after being tempted by the shops nearby!
The story says "the world's premium brands are queuing up to get in", drawn by the relative calm and village atmosphere along with "the beautiful architecture, wide pavements, classy street lamps and water features."
The article describes how "rents have soared 300% in the past six years" and highlights how, as a result, some traders have left or are set to leave, including celebrity hairdresser Nicky Clarke.
We've reprinted the article in full below...
"Is this the most exclusive shopping street in London?"

- The Sunday Times

12th February 2012 - By Kate Walsh
The Sunday Times, London

The Duke of Westminster has turned Mayfair's Mount Street into a magnet for the super rich

It's just after 10 o'clock on a bitterly cold morning and Mount Street is waking up. A young woman is outside the Carolina Herrera boutique polishing the window until it sparkles.

Minutes later a blue Bentley pulls up outside William & Son, the expensive jeweller. A woman, swathed in fur, emerges and is ushered into the store by a security guard. Her driver waits patiently.

A little farther down the Mayfair street is Scott's, the seafood restaurant owned by Richard Caring, the tycoon who made his fortune in the fashion industry. Although it's two hours until it opens for lunch, the restaurant is buzzing as every corner and crevice is vacuumed and light fittings are dusted.

Attention to detail is de rigueur on Mount Street. It is insisted on by the Duke of Westminster, whose Grosvenor Estate is the street's biggest landlord. This rule of iron is transforming the once sleepy home of art galleries and antique dealers into probably the most exclusive shopping street in the capital.

Super-rich Chinese tourists have added it to their London luxury tours alongside Bond Street and Knightsbridge. European and domestic big spenders are choosing its relative calm — and its selection of top brands from Balenciaga and Christian Louboutin to Marc Jacobs and Lanvin — over the more chaotic Bond Street.

"They are creating a street of super-brands and the big spenders are catching on," said Marc Voulters, a partner at SRLV, the accountant. "The people who come to Mount Street come to buy. You don't get the browsers here — that's what Selfridges and Bond Street are for."

This is Mount Street's moment, but its transformation is coming at a high price. Rents have risen by 300% in the past six years. One retailer has seen his rent rocket from £16,000 a year about two decades ago to £150,000 today. Key money — the upfront cash that retailers have to pay on top of rent to secure the property — has gone from nothing to close to £1m in almost a decade.

Already an independent chemist, which had been on the street since 1840, has been squeezed out by the high rents. What was once the post office — and the setting for Henry James's novella In the Cage — became a Ralph Lauren shop last year. Residents fear that independents such as Allens, said to be the oldest butcher in London, and Sautter, a cigar emporium at its Mount Street address for 30 years, could be next.

Others celebrate what the Duke of Westminster and Grosvenor have achieved.

Mount Street's revival began in 1990 when the duke took a walk from his office on Davies Street to Harry's Bar on South Audley Street. On the way, he walked along Mount Street and what he saw depressed him. Nineteen of his retail units were empty. He decided he had to do something or Mount Street would become the black sheep of Mayfair.

He brought in hairdressers and estate agents. Nicky Clarke, the celebrity coiffeur, was one of the first to pitch up and was followed by Wetherell, the premium estate agency. Otherwise, Mount Street remained as it always had been: a street of antique dealers, gun shops and fine art galleries. All of which you had to ring a doorbell to enter.

"This was a street that was asleep," said Stephen Webster, founder of the upmarket jewellery brand that opened its London flagship on Mount Street three years ago, "but that all changed when Marc Jacobs and Richard Caring arrived."

In 2006, Caring bought Scott's. The fish restaurant had become tired, and he invested millions to make its tables some of the most sought-after in London. This gave people a reason to visit Mount Street at lunchtime and in the evening, and Marc Jacobs, the fashion designer, gave them a reason to shop there when he opened his only London store next door to Scott's in early 2007.

Since then the world's premium brands have been queuing up to get in. Céline, the French brand, is the latest to take on a big store, following Lanvin, Balenciaga, Nicholas Kirkwood and Loewe.

Everyone, regardless of which luxury brand they come from, is closely vetted by Grosvenor. Webster said: "We were basically interviewed by the estate. A woman came round and she wanted to see our design for the store; they wanted to know everything."

Webster got through but some, such as The Kooples, the edgy French label, didn't make the cut. Others are just not willing to pay the eye-watering rents. Sean Gilbertson, whose private equity business owns the high-end jewellery brand Fabergé, spent a few months of last year searching for a space on Mount Street but was ultimately defeated.

"We made a big bid for a unit next to Christian Louboutin, but we got blown out of the water by Ralph Lauren," he said. "The rents they are looking for are not sensible and some retailers will be unhappy in the short term because they are not going to get the shopping traffic you would get in other parts of Mayfair. However, I strongly believe you are buying for the future because Mount Street will be one of the best parts of town in five or six years."

Gilbertson puts this down to Grosvenor's obsessive attention to detail on everything from vetting the retailers to the width of the pavements. The estate has spent £10m — greatly helped by the rising rents — on widening the pavements, allocating car parking spaces outside the shops (perfect for the chauffeur) and installing classy street lamps and a water feature outside the Connaught hotel.

"It is one of the smartest and most carefully thought out streets in London, and the fact they have only one landlord means they are able to plan things properly," said Gilbertson.

Yet not everyone is impressed. William Asprey, of the seventh generation of the Asprey jewellery family, set up William & Son, which has a jewellery and gun shop on Mount Street.

Unlike the fashion brands that are paying premiums of up to £1m just to secure a lease, Asprey didn't pay anything when he moved in in 2000 — and now he thinks the rents are ridiculous.

"Grosvenor is pushing for all of these big brand names because they want to create another Bond Street, and that's fine, but we don't get the passing trade. You just get the feeling that they've tarted it up and all they want is to attract big rents, but they couldn't care less about who was here," said Asprey.

Glenys Roberts, a Mount Street resident since 1969 and a Tory member of Westminster council, isn't keen on recent changes either. "There used to be a chemist, hardware shop, bakery and post office, now everything is incredibly expensive. I don't know who shops in these places — at Christian Louboutin it's £600 for a pair of flat shoes."

Yet Sean McDermott, the doorman at Scott's, who is known as "Mr Mount Street", believes the street has become the "destination" the Duke of Westminster dreamt of. "I stand out there every day and I see a succession of chauffeured Bentleys and Rolls-Royces. When they're not stopping, it's the Aston Martins and Ferraris. What more proof do you want?"

Duke pushes out Nicky Clarke

NICKY CLARKE, the celebrity hair stylist who charges up to £300 for a cut, is set to leave his exclusive Mayfair address after his landlord, the Duke of Westminster, more than doubled the rent in a year, writes Kate Walsh.

Clarke is a casualty of the campaign by the Duke's property group, Grosvenor Estate, to make Mount Street in Mayfair one of the world's most exclusive shopping streets - with rents to match. In recent years, luxury brands such as Balenciaga, Christian Louboutin and Lanvin have made Mount Street home.

Clarke opened his flagship salon there 20 years ago and has been part of Mount Street's transformation from a sleepy Mayfair outpost to a playground for the rich and famous. "It's a shame," said Clarke, "but when you're into the realm of the superbrands, they just don't care what the price is. They'll pay anything to be seen on Mount Street."

He was horrified when his rent more than doubled this year, and will now move to a new Mayfair location in June.

Copyright © The Sunday Times