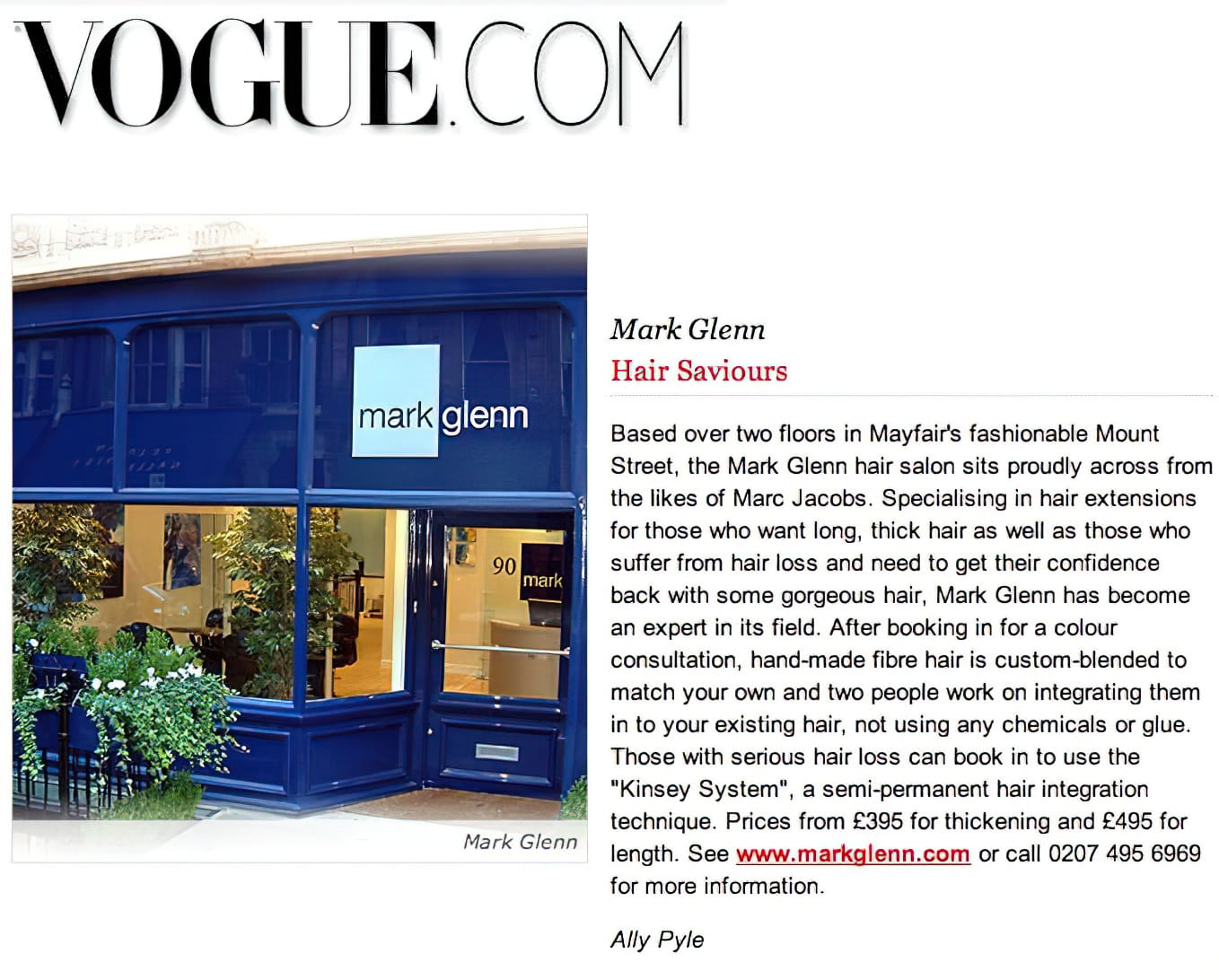 The Fashionistas' bible, Vogue, today described our hair as "gorgeous" in a feature about our hair extensions work.
It says we've become "experts in our field" and talks about both our specialist hand-made fibre hair extensions and our semi-permanent hair integration technique for female hair loss, The Kinsey System.
In an article headlined "Hair Saviours" it also pictures our London hair extensions salon and talks about our location over two floors in Mayfair's fashionable Mount Street.
We're delighted to get a mention - we've reprinted the text of the feature below...
Mark Glenn - Hair Saviours

- Vogue

Vogue, London - by Ally Pyle
25th July 2008

Based over two floors in Mayfair's fashionable Mount Street, the Mark Glenn hair salon sits proudly across from the likes of Marc Jacobs.

Specialising in hair extensions for those who want long, thick hair as well as those who suffer from hair loss and need to get their confidence back with some gorgeous hair, Mark Glenn has become an expert in its field.

Specialising in hair extensions for those who want long, thick hair as well as those who suffer from hair loss and need to get their confidence back with some gorgeous hair, Mark Glenn has become an expert in its field

After booking for a colour consultation, hand-made fibre is custom-blended to match your own and two people work on integrating them in to your existing hair, not using any chemicals or glue.

Those with serious hair loss can book in to use the "Kinsey System", a semi-permanent hair integration technique.

Prices from £395 for thickening and £495 for length.

See www.markglenn.com or call 0207 495 6969 for more information.

Copyright © Vogue
Vogue - 'Mark Glenn - Hair Saviours' (106 kb)