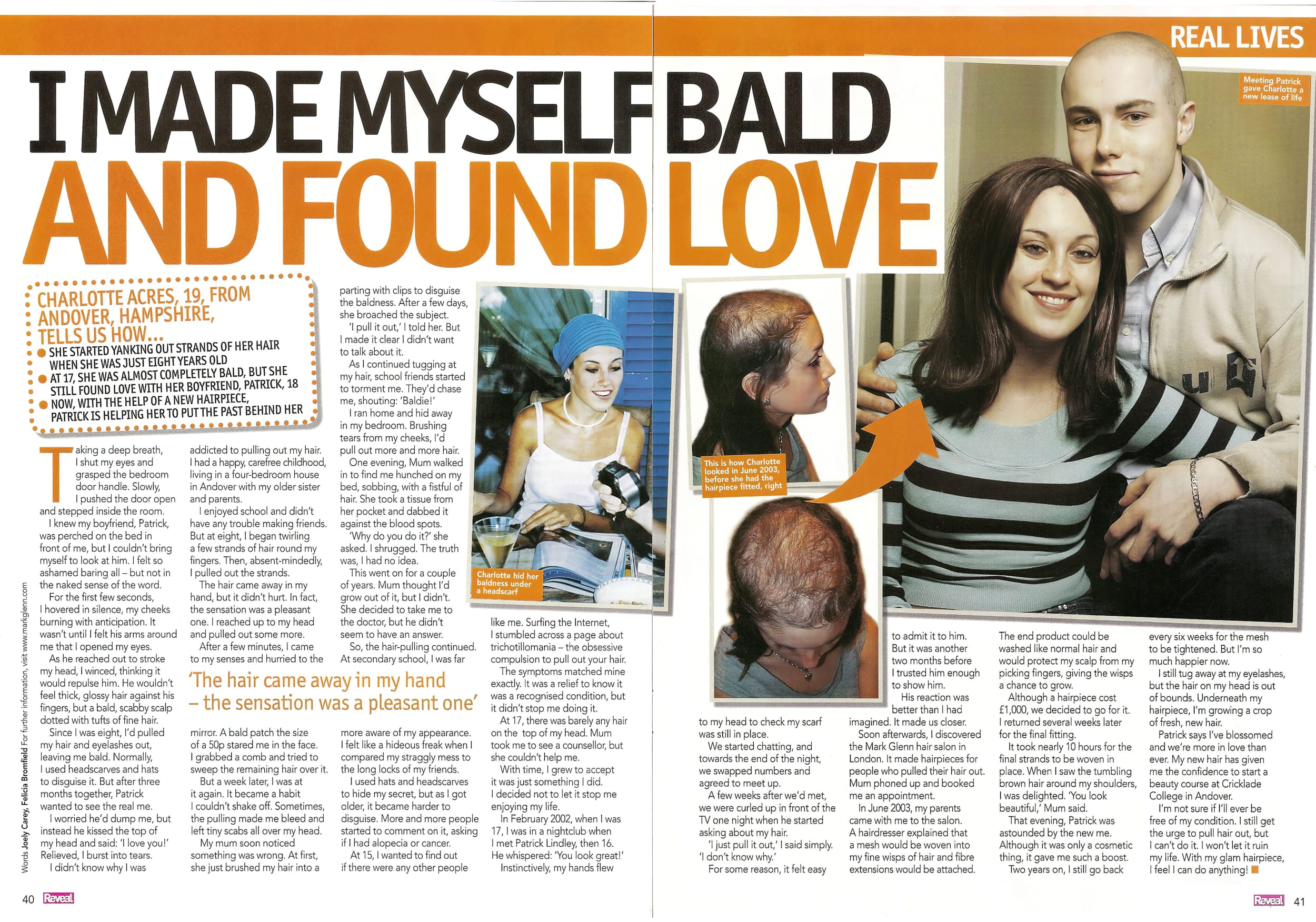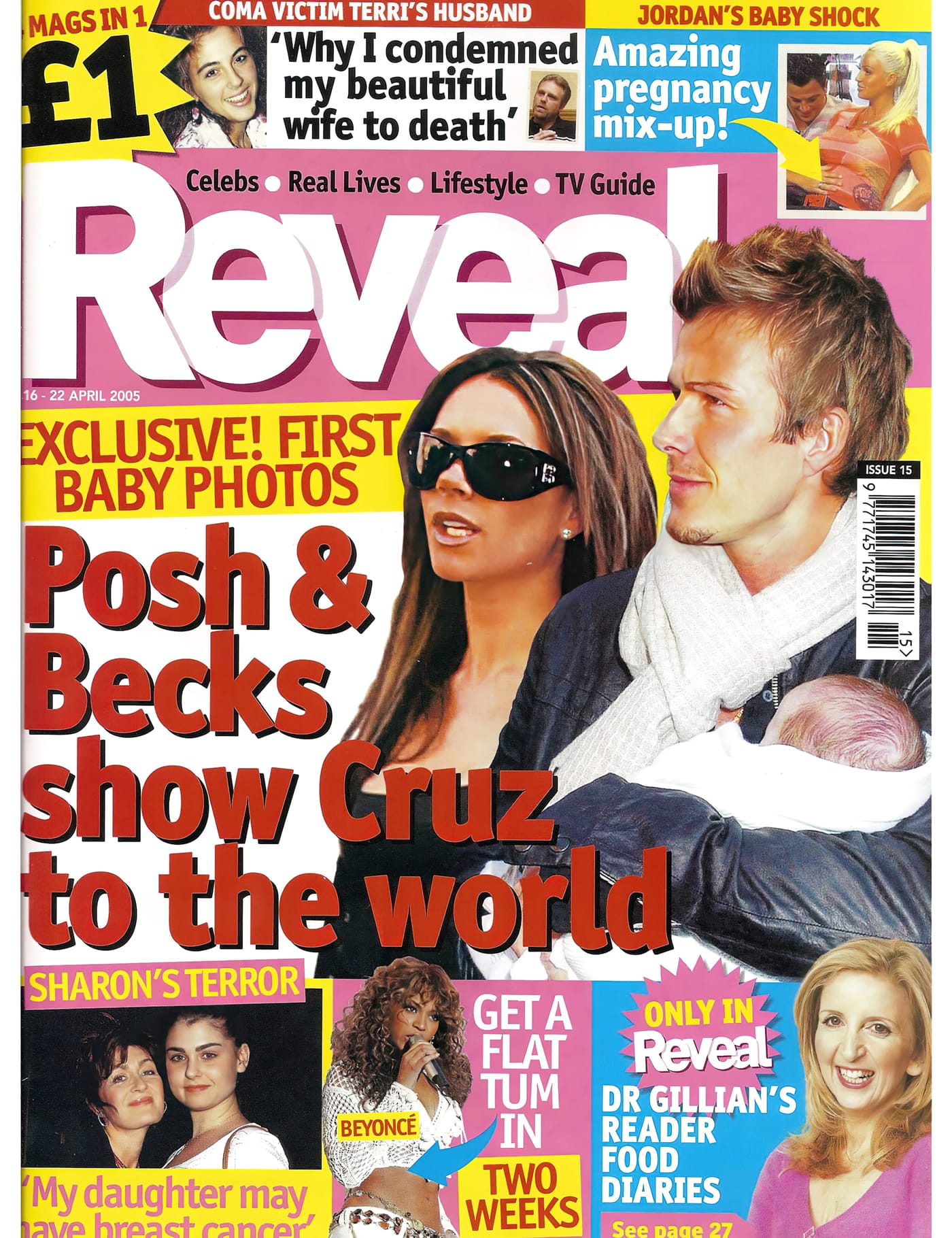 This week's Reveal Magazine tells how a teenage girl with trichotillomania had her thinning hair transformed at Mark Glenn - and found love.
19-year old Charlotte started pulling out her hair when she was just 8 years old and by 17, was almost completely bald. After doctors and therapists failed to find a solution, she came to us for help.
In the double-page feature, she tells how her hair is now growing back and "love has blossomed" with her new man Patrick. She says that "with my glam new hair, I feel I can do anything!"
We used our in-house developed Kinsey System for female hair loss to create Charlotte's new look. She can wash, brush, blow dry, style with normal hair products, swim and do just about everything she could do with a normal full head of hair.
This unique hair integration technique is semi-permanent and the advantage for trichotillomania sufferers is twofold - they find it harder to "tug" at their "favourite" hairs and, quite simply, the realisation that damaging their new hair could result in expensive returns to our studio is, for some, a powerful deterrent!
Charlotte's story is an inspiration to others and you can read the text of the article below...
"I made myself bald and found love"

- Real Lives

Reveal Magazine, London

Charlotte, 19, from Andover, Hampshire tells us how...

She started yanking out strands of her hair when she was just eight years old
At 17, she was almost completely bald, but she still found love with her boyfriend, Patrick, 18
Now, with the help of a new hair system, Patrick is helping her to put the past behind her

Taking a deep breath, I shut my eyes and grasped the bedroom door handle. Slowly, I pushed the door open and stepped inside the room.

I knew my boyfriend, Patrick, was perched on the bed in front of me, but I couldn't bring myself to look at him. I felt so ashamed baring all - but not in the naked sense of the word.

For the first few seconds, I hovered in silence, my cheeks burning with anticipation. It wasn't until I felt his arms around me that I opened my eyes.

As he reached out to stroke my head, I winced, thinking it would repulse him. He wouldn't feel thick, glossy hair against his fingers, but a bald, scabby scalp dotted with tufts of fine hair.

Since I was eight, I'd pulled my hair and eyelashes out, leaving me bald. Normally, I used headscarves and hats to disguise it. But after three months together, Patrick wanted to see the real me.

'I worried he'd dump me'

I worried he'd dump me, but instead he kissed the top of my head and said, 'I love you!' Relieved, I burst into tears.

I didn't know why I was addicted to pulling out my hair. I had a happy, carefree childhood, living in a four-bedroom house in Andover with my older sister and parents. I enjoyed school and didn't have any trouble making friends. But at eight, I began twirling a few strands of hair round my fingers. Then, absent-mindedly, I pulled out the strands.

The hair came away in my hand, but it didn't hurt. In fact, the sensation was a pleasant one. I reached up to my head and pulled out some more. After a few minutes, I came to my senses and hurried to the mirror. A bald patch the size of a SOp stared me in the face. I grabbed a comb and tried to sweep the remaining hair over it.

But a week later, I was at it again. It became a habit I couldn't shake off. Sometimes, the pulling made me bleed and left tiny scabs all over my head.

Mum walked in to find me hunched on my bed, sobbing, with a fistful of hair

My mum soon noticed something was wrong. At first, she just brushed my hair into a parting with clips to disguise the baldness. After a few days, she broached the subject.

'I pull it out,' I told her. But I made it clear I didn't want to talk about it. As I continued tugging at my hair, school friends started to torment me. They'd chase me, shouting, 'Baldie!'

I ran home and hid away in my bedroom. Brushing tears from my cheeks, I'd pull out more and more hair. One evening, Mum walked in to find me hunched on my bed, sobbing, with a fistful of hair. She took a tissue from her pocket and dabbed it against the blood spots.

'Why do you do it?' she asked. I shrugged. The truth was, I had no idea.

This went on for a couple of years. Mum thought I'd grow out of it, but I didn't. She decided to take me to the doctor, but he didn't seem to have an answer.

So, the hair-pulling continued. At secondary school, I was far more aware of my appearance. I felt like a hideous freak when I compared my straggly mess to the long locks of my friends. I used hats and headscarves to hide my secret, but as I got older, it became harder to disguise. More and more people started to comment on it, asking if I had alopecia or cancer.

Trichotillomania - hair-pulling

At 15, I wanted to find out if there were any other people like me. Surfing the Internet, I stumbled across a page about trichotillomania - the obsessive compulsion to pull out your hair. The symptoms matched mine exactly. It was a relief to know it was a recognised condition, but it didn't stop me doing it.

At 17, there was barely any hair on the top of my head. Mum took me to see a counsellor, but she couldn't help me.

'I just pull it out,' I said simply. ' I don't know why.'

With time, I grew to accept it was just something I did. I decided not to let it stop me enjoying my life. In February 2002, when I was 17, I was in a nightclub when I met Patrick, then 16. He whispered: 'You look great!'

Instinctively, my hands flew to my head to check my scarf was still in place. We started chatting, and towards the end of the night, we swapped numbers and agreed to meet up.

A few weeks after we'd met, we were curled up in front of the TV one night when he started asking about my hair. 'I just pull it out,' I said simply. 'I don't know why.' For some reason, it felt easy to admit it to him. But it was another two months before I trusted him enough to show him.

'I discovered the Mark Glenn hair salon in London'

His reaction was better than I had imagined. It made us closer. Soon afterwards, I discovered the Mark Glenn hair salon in London. It created hair for people who pulled their hair out. Mum phoned up and booked me an appointment.

The end product could be washed like normal hair and would protect my scalp from my picking fingers

In June 2003, my parents came with me to the salon. A hairdresser explained that a mesh would be woven into my fine wisps of hair and fibre extensions would be attached.

The end product could be washed like normal hair and would protect my scalp from my picking fingers, giving the wisps a chance to grow.

Although the hair cost £1,000, we decided to go for it. I returned several weeks later for the final fitting.

'Patrick was astounded by the new me'

It took nearly 10 hours for the final strands to be woven in place. When I saw the tumbling brown hair around my shoulders, I was delighted. 'You look beautiful,' Mum said.

Underneath my Mark Glenn hair, I'm growing a crop of fresh, new hair

That evening, Patrick was astounded by the new me. Although it was only a cosmetic thing, it gave me such a boost.

Two years on, I still go back every six weeks to be tightened. But I'm so much happier now. I still tug away at my eyelashes, but the hair on my head is out of bounds. Underneath my Mark Glenn hair, I'm growing a crop of fresh, new hair.

Patrick says I've blossomed and we're more in love than ever. My new hair has given me the confidence to start a beauty course at Cricklade College in Andover.

I'm not sure if I'll ever be free of my condition. I still get the urge to pull hair out, but I can't do it. I won't let it ruin my life. With my glam new hair, I feel I can do anything!

For further information visit Mark Glenn Hair Enhancement at www.markglenn.com or call 0207 495 6969.

Copyright © Reveal Magazine. Words by Joely Carey and Felicia Bromfield
Trichotillomania - 'I made myself bald and found love' - Reveal Magazine (1.2 mb)