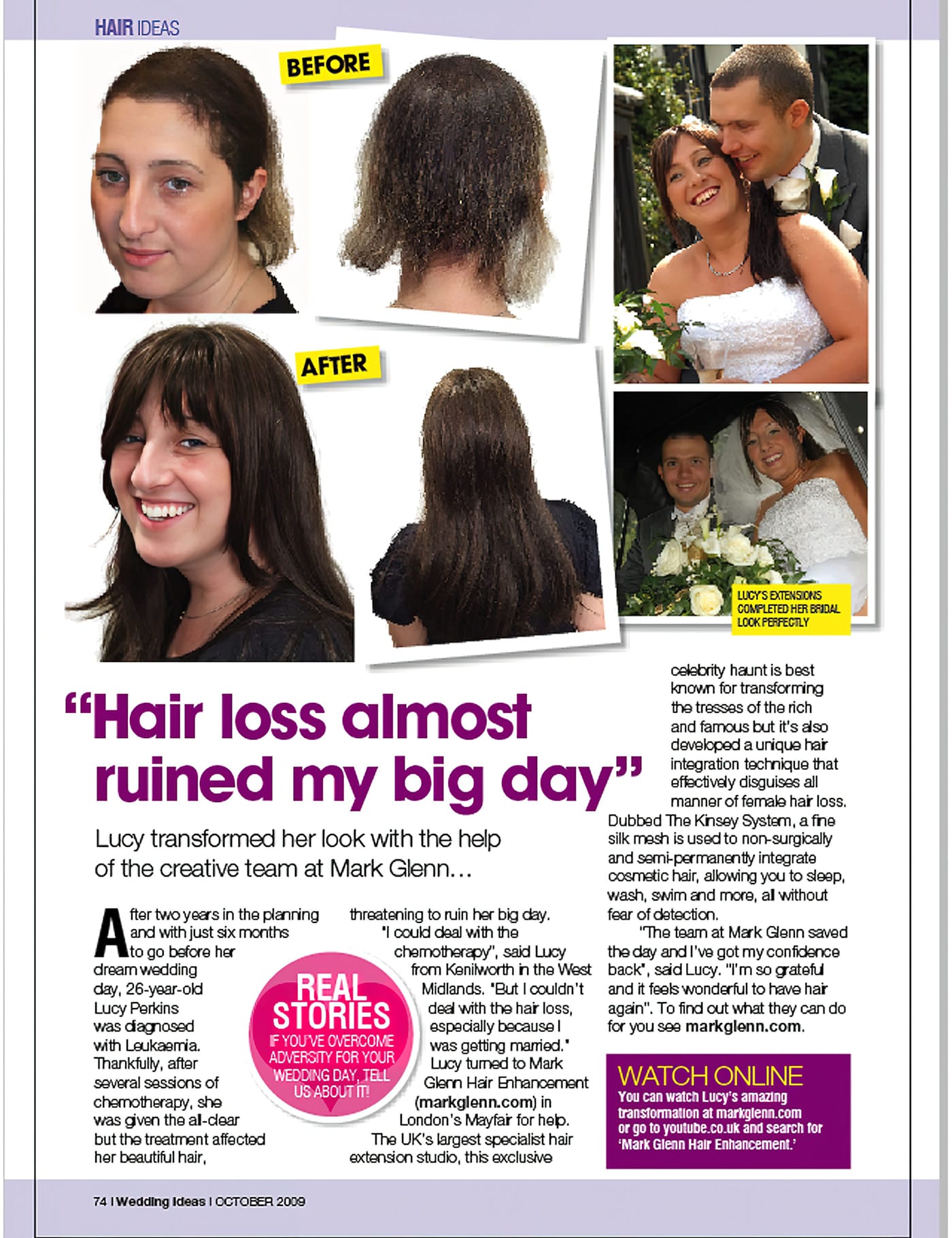 A fantastic fairy tale ending for a 26-year old cancer patient needing hair for her wedding day was outlined in an issue of 'Wedding Ideas Magazine'.
The UK's biggest-selling wedding magazine tells the story of how we helped give Lucy Perkins from Kenilworth in the West Midlands her dream wedding.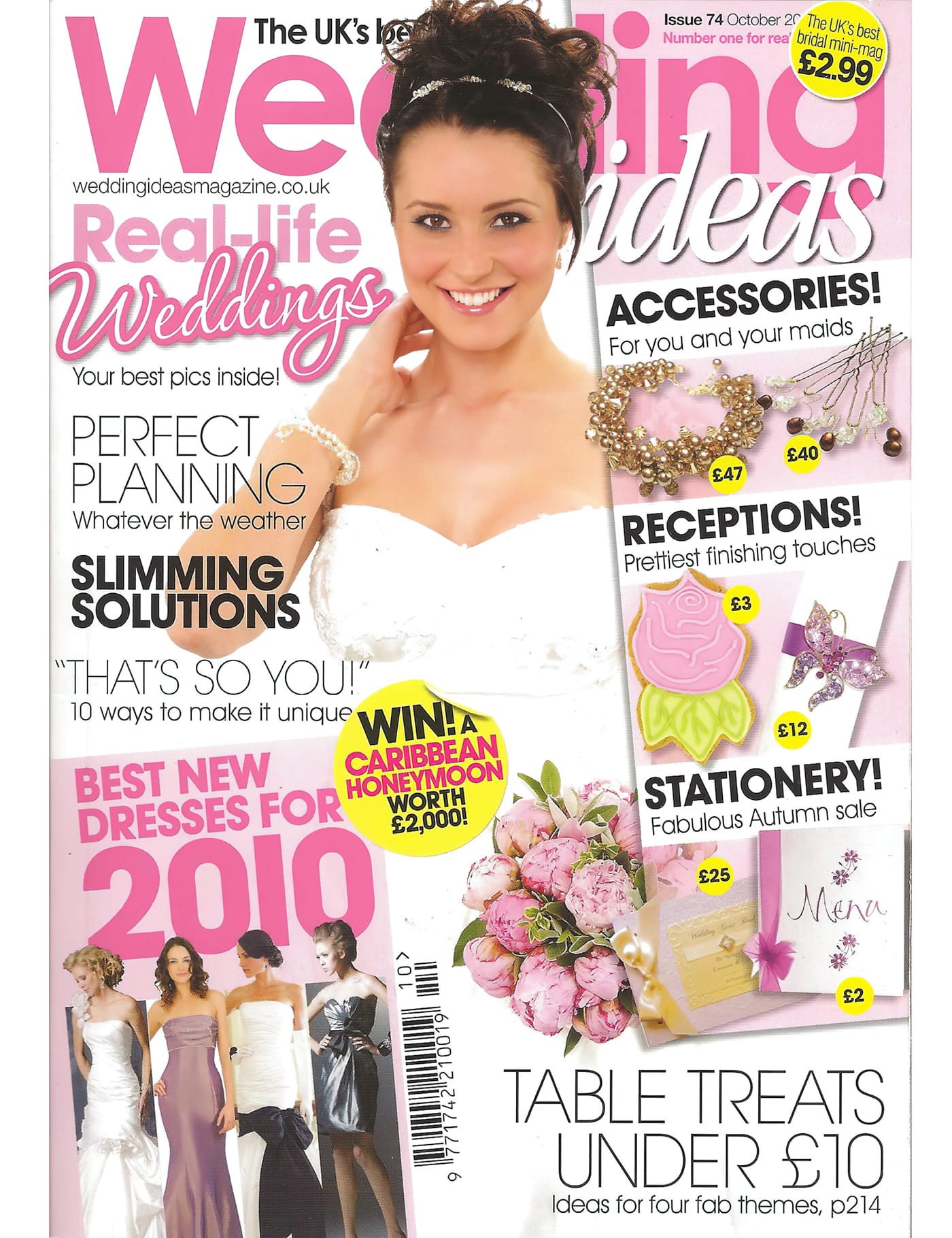 After two years in the planning and with just six months to go before the big day, Lucy was diagnosed with Leukaemia.
Thankfully, after chemotherapy, she was given the all-clear but it devastated her beautiful hair. As she says in the magazine, "I could deal with the chemotherapy, but I couldn't deal with the hair loss, especially because I was getting married."
The feature says, "The UK's largest specialist hair extension studio, this exclusive celebrity haunt is best known for transforming the tresses of the rich and famous but it's also developed a unique hair integration technique that effectively disguises all manner of female hair loss."
How we did it
We used our in-house developed "Kinsey System" to transform Lucy's hair, a non-surgical and semi-permanent method of filling out existing hair without the use of any chemicals, glues, tapes or threads. This means clients can wash, swim, blow-dry, straighten, style, in fact treat their hair just as if it were their own.
The team at Mark Glenn saved the day and I've got my confidence back
After seeing the results, Lucy says in the article, "The team at Mark Glenn saved the day and I've got my confidence back - I'm so grateful and it feels wonderful to have hair again."
And yes, as you can see from the pictures below, she looked absolutely gorgeous on her wedding day and everything passed off without a hitch. You can also read the article in full below and watch a video showing the procedure from start to finish.
"Hair Loss Almost Ruined My Big Day" -

Wedding Ideas Magazine

Lucy transformed her look with the help of the creative team at Mark Glenn...

After two years in the planning and with just six months to go before her dream wedding day, 26-year old Lucy Perkins was diagnosed with Leukaemia.

Thankfully, after several sessions of chemotherapy, she was given the all-clear but the treatment affected her beautiful hair, threatening to ruin her big day.

'I could deal with the chemotherapy,' said Lucy from Kenilworth in the West Midlands. 'But I couldn't deal with the hair loss, especially because I was getting married.'

Lucy turned to Mark Glenn Hair Enhancement (markglenn.com) in London's Mayfair for help.

The UK's largest specialist hair extension studio, this exclusive celebrity haunt is best known for transforming the tresses of the rich and famous but it's also developed a unique hair integration technique that effectively disguises all manner of female hair loss.

I could deal with the chemotherapy, but I couldn't deal with the hair loss, especially because I was getting married.

Dubbed 'The Kinsey System', a fine silk mesh is used to non-surgically and semi-permanently integrate cosmetic hair, allowing you to sleep, wash, swim and more, all without fear of detection.

'The team at Mark Glenn saved the day and I've got my confidence back,' said Lucy. 'I'm so grateful and it feels wonderful to have hair again.'

To find out what they can do for you see markglenn.com.

WATCH ONLINE
You can watch Lucy's amazing transformation at markglenn.com or go to YouTube.com and search for 'Mark Glenn Hair Enhancement'.

Copyright © Wedding Ideas Magazine

Wedding Ideas Magazine - 'Hair Loss Almost Ruined My Big Day' - Mark Glenn Hair Enhancement (263 kb)
VIDEO: 'I want hair for my wedding after chemotherapy' - Lucy's story