Volume
Adds volume without
additional length
Whatever it takes to make you
look gorgeous - no additional charges
for extra extensions
Recommended wear - 3 months
Two-member team working
simultaneously + stylist
Appointment time
typically 3 to 4 hours
Custom-blended colour matching
Includes all cutting and styling
Unlimited love and refreshments
Mark Glenn Money-Back Guarantee
£ 595
Book Free Consultation
Volume + Length
Go as long as you like
at one fixed price
Whatever it takes to make you
look gorgeous - no additional charges
for extra extensions
Recommended wear - 3 months
Two-member team working
simultaneously + stylist
Appointment time
typically 4 to 6 hours
Custom-blended colour matching
Includes all cutting and styling
Unlimited love and refreshments
Mark Glenn Money-Back Guarantee
£ 850
Book Free Consultation
Singles
Individual extensions for targeted
volume, highlights or colour
Priced
per
extension
Recommended wear - 3 months
Two-member team working
simultaneously + stylist
Appointment time
dependent on requirements
Custom-blended colour matching
Includes all cutting and styling
Unlimited love and refreshments
Mark Glenn Money-Back Guarantee
£ 16 each
Book An Appointment
Optional Products & Services
for hair extensions
First Wash & Style
£85
Getting the very first wash right is important because trapped moisture can cause slippage of your extensions. We'll give you full insructions for doing this yourself but most new clients prefer us to do it. During this 2 hour appointment, we'll wash, dry and style your new hair, taking you step by step through different styling techniques. Anything else you might need after wearing your extensions for a couple of days is included - e.g. we might add a few extensions or take a few more inches off to get things absolutely right. And, if we do your first wash, we guarantee to replace free of charge any extensions you might lose due to slippage within the first 6 weeks of wear.
Bespoke Work
via consultation
If you have something specific, peculiar or unusual that's not covered by the above, we can advise and quote accordingly during a consultation. We've done everything from avant-garde dreads to an art installation...
Hair Extension Removal
£85
You can easily remove our extensions yourself. And if we're replacing your extensions, we'll remove them free of charge as part of the service. However, if you'd like us to remove your extensions and we're not replacing them with new ones, there is a fee.
Padded Brush Small / Large
£17 / £24
If you don't already have your own brush, you can get one of the ones we use in the salon.
Mark Glenn Straighteners
£55
If you like to straighten your hair, you may already have a suitable set. If not, you can purchase our own - they're superb and tried, tested and used in the salon every day. Suitable for both your own hair and our extension hair.
Mark Glenn Heated Rollers
£60
You can achieve some amazing results with heated rollers. Most brands will do the job but you can purchase our own if you wish - they're fantastic.
Styling Products
various
You don't need any special products with Mark Glenn Hair Extensions. Your favourite shampoo, conditioner and styling products are absolutely fine. We also stock a small range of our favourites.
Other Salon Services
hairdressing and technical
Cut, Blow-Dry & Finish
£75
Blow-Dry & Style
£55
'Brazilian' Keratin Treatment
£230
Colour: Highlights - Full Head
£135
Colour: Highlights - Half Head
£110
Colour: Highlights - T-Section
£95
Colour: Tint - Full Head
£95
Colour: Tint - Root
£70
Colour: Other
via consultation
* Please note that for all technical colour services a prior patch test is required. We know it's boring but it's for your protection.
All prices include VAT. E & O E
Mark Glenn Money-Back Guarantee
for hair extensions
We've all done it. Bought into the hype, handed over our hard-earned money and been disappointed with the end result. And by then it's too late.
We want to take that risk away for you. We don't just want you to be happy with your Mark Glenn Hair Extensions.
We want you to be ecstatic.
So, if you're a new, bona fide client who's at all concerned about whether what we say is what we do, rest assured:
Book in for the work. Let us create the hair of your dreams. Swish it. Run your fingers through it. Look at it from every angle.
And if, at the end of the appointment, you're unhappy in any way, just tell us.
We'll then immediately remove all the extensions, cancel the bill and refund your deposit.
That's right - it won't cost you a penny.
This way, we can both have the utmost confidence in your investment.
It's unique in the industry and it's just what we do.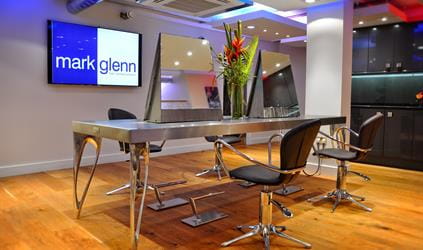 Additional Information
other important stuff
Deposits
For all hair extension appointments, a deposit is payable in advance and deducted from the final bill.
Cancellations
We know life sometimes gets in the way. If you have to cancel, please let us know as soon as possible. If a cancellation is received less than 10 days before your appointment we'll do our very, very best to fill your appointment slot with another client. If we're unable to do this, your deposit will be non-refundable as a contribution towards several team members being already allocated to your work, often over several hours. If no deposit has been received, you'll be charged a cancellation fee. Thank you for your understanding.
Prepare for your appointment
Prior to your hair extension appointment please wash and dry your hair without conditioner or any additional products. In other words, we need your hair to be "naked" on arrival for the optimum result.